On Reflection
Express personal reflections of Kabbalah of Creation
with a poetry workshop.
Enjoy smoothies and (Leah Rubin's) birthday desserts.
Hostesses: Renee Speigel & Eileen Soricillo
Suggested donation: $10
No affiliation or membership necessary.
Questions? contact Leah at 495-0779
Sunday, March 2nd, 5:00 pm
at Art on Tap studio, Clifton Park Center
Paint a magnificent masterpiece step by step,
with the expertise of local artists.
Explore Day 5: Fish & Birds
Sip some wine & enjoy delicious Purim snacks
Hostesses: Alyla Goldman & Alisa Chessler
Live it Live!
Tuesday, January 7th, 7:30 PM
Enhance flavor and nutrition with a hands-on
fermentation workshop with the Healthy Living Market.
Explore Day 4 of Creation: Sun, Moon & Stars.
Warm up with a delicious soup bar.
Hostesses for the event are Rivi Bahir & Hadas Gartiez.
Oil Essence!
Tuesday, November 19th, 7:00 PM (not usual 7:30)
at Clifton Park - Halfmoon Library
Join the Jewish Women's Circle and Hadassah Clifton Park
for an essential oil workshop with Erin of Essential Living.
Explore Day 3 of Creation: Land & Plants!
Feast on some essential Chanukah treats.
Special door prize for the first 15 reservations!
Hostesses for the event are Elaine Lowenberg & Erica Schumacher.
Donation of $10 welcome.
No affiliation or membership necessary.
Questions? contact Leah at 495-0779 or [email protected]
JWC Making Memories

Monday, July 8th, 7:30 pm
"Birthdays, Making Memories"
Participants will create their own mini photo scrapbook (bring along some photos), join an Amen Party (don't know what that is? come and you will hear!) and cool off with a delicious ice cream bar. Also at this meeting a JWC birthday club will be initiated.
Hostesses are Renee Spiegel and Layne Zagorski.
The Clifton Park Jewish Women's Circle announces its
5th Annual Gala Luncheon & Silent Auction
"Count your Blessings"
Sunday, June 9th, 1 pm
at the Shen Adult Community Center, 6 Clifton Common Ct.
for an afternoon of fun, joy and inspiration celebrating the Jewish Woman.
The event will feature a Presentation by author BJ Rosenfeld, Gourmet Kosher Luncheon, Silent Auction and elegant music!
Gifts will be presented to all hostesses. No affiliation or membership necessary; all Jewish women are invited!
Couvert is $15 Prepaid or $18 at the door
Event Committee includes Rivi Bahir, Layne Zagorski, Brenda Lubrano-Birken, Alice Birnbaum & Meg Bilgore. To RSVP or donate prizes for the Benefit Silent Auction contact 495-0779 or email[email protected]
JWC Floral Design
Tuesday, May 7th, 7:30 pm at 495 Moe Rd
*Create beautiful flower arrangements with

Florist Frank Gallo & Sons

*Indulge in a Gourmet Cheese & Wine Buffet

*Delight in "Torah's Bouquet of Blessings"

Join the Jewish Women's Circle for
Mosaic Art
Thursday, April 11, 7:30 pm
at 495 Moe Rd.
Decorate an Elegant Mosaic Masterpiece
Embrace the Land of Israel as a 'Channel for Blessings'
Munch on Falafel and Israeli classics
Hostesses: Judy Homes, Lucille Schwartz
Suggested Donation: $10
RSVP Here
***
The Jewish Women's Circle and Clifton Park Hadassah
invite you to
Join a hands-on whole foods demo with
Nutritionist Hollan Schwartz
Tuesday, March 12, 7:00 pm (sharp)
at the Clifton Park-Halfmoon Library, 475 Moe Rd
Delight in nutrition loaded colorful salads & sample smoothies,
topped with a discussion on "Wholy Food"
Hostesses for the evening are Danielle Galliard,
Rochelle Borgen and Elaine Lowenberg.
***
Jewelry & Gifts

Monday, November 19, 7:30 pm

Create beautiful beaded jewelry and bring along
a wrapped Chanukah gift to exchange. (about $5 value)
Explore "Praise & Thanks: Rainbows & more"

Feast on traditional latkes and donuts.
Hostesses: Linda Russell, Karen DeChalus
Suggested donation is $10
***
"Knead a Blessing?"
Sunday, October 28, 1:00 PM
Knead and Braid your own Challah dough.
Sample fresh Challah with a variety of Savory dips.
"You did not build that!" insights
Women and Girls invited!
Hostesses: Varda LeMonds & Alice Birnbaum
"The Inner Me"
*Treat yourself to gentle stretching with
certified Yoga instructor, Amanda Toll
*Explore your spiritual character in
preparation for Rosh Hashana
Date: Wednesday, August 29
Time: 7:00 PM
at the Clifton Park Halfmoon Library
Enjoy refreshing refreshments for the new year.
Hostesses: Alyla Goldman and Sandy Maller
You are invited to the Jewish Women's Circle's 4th Annual Gala Luncheon for an afternoon of fun, joy and inspiration on Sunday, June 3 1:00 pm at the Shenendehowa Adult Community Center. The Gift of Joy, Wrapping it Up - "Finding Happiness in the Present" by Judi Clements
Gourmet Luncheon and Silent Auction! Gifts will be presented to all hostesses. No affiliation or membership necessary- all Jewish women invited! Committee: Brenda Lubrano-Birken, Rebecca Harrell, Layne Zagorski. RSVP 495-0779 or [email protected] . Couvert is $15 Prepaid, $18 at the door.
Jewish Women's Gala Luncheon
The Voice Within- Concert & Inspiration
Sunday, June 6, 2010
11:00 am - 1:00 pm
Saratoga Arts Center - 320 Broadway
Featuring: Shaina Ettel Menda
Gourmet Luncheon, Concert & Inspiration
Silent Auction & Desserts
*Couvert: In advance $12 *At the door $15 *Sponsor $36
RSVP [email protected]

Committee (in formation): Varda LeMonds, Alice Birnbaum,
Brenda Birken, Layne Zagorski, Sue Joki
To join the committee, contact Leah at 495-0779
If you have merchandise/ services to donate to the silent auction,
email Layne at [email protected]
***
THE VOICE WITHIN: Coming home: Shaina Ettel sings:

Shaina Ettel brings a fresh approach to traditional Jewish music. She captures the heart and soul of this music like no one has done before. The sound is right, the songs are powerful, and the music is timeless. Described as ethereal, haunting, heavenly and awesome, she has a sound of pure joy and beauty… Come join in the journey through story and song as Shaina Ettel makes her debt in her home region of Saratoga County after serenading audiences in the Holy Land for the past 5 years. Join the thousands who have discovered Shaina Ettel's VOICE WITHIN. For preview go to www.shainaettel.com

Shaina Ettel Menda (28) grew up as Sara Joki to Sue and Bob Joki of Saratoga Springs. Growing up as your average American she knew that her Jewish identity set her apart. It was only after a trip in college to Israel did she immerse herself in her rich heritage on a day to day basis. After university where she attained a degree in Classical Vocal Performance she moved to Israel where she married Rabbi Yitzchak Menda of CA. While in Israel Shaina Ettel enjoyed a successful music career on stage and in the recording studio. Her CD Ya'ale can be found world wide.
Shaina Ettel and husband recently moved back to CA with baby Reyna Rachel in tow. We are thrilled to have Shaina Ettel featured here at our Women's Luncheon!
Feed your mind... Nourish your soul... Delight your senses...... Join the Women's circle's journey; experience the warmth, joy and spirit of each Jewish month
Thursday, January 20th, 7:30 PM at 495 Moe Road, Clifton Park

Use fresh fruit, veggies and grains to produce wholesome creations! Top with environmental discussion for the month of shvat. (This women's circle is on Tu B'shvat itself! and of course we will also explore this month according to Kabbalah!
Hostesses are Meg Bilgore and Erica Novick, Looking forward to seeing everyone!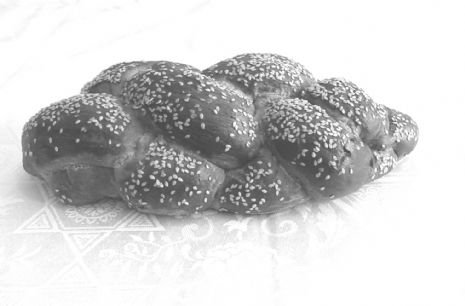 KNEAD A BREAK?? CHALLAH BAKING AND BREAIDING WILL DO! DE-STRESS IN TEVET! SAMPLE TRADITIONAL SHABBAT FOODS
EXPLORE THE SECRETS OF THIS JEWISH MONTH!
HOSTESSES: KAREN DECHALUS & LINDA STERNFELD
TUESDAY, DECEMBER 13, 7:30 PM AT 495 MOE ROAD
Jewelry Design
Create a gift piece of Jewelry in honor of Kislev. Feast on wonderful Chanukah treats!
Tuesday, November 16- 7:30 PM
at Lowenberg home, 7 Wildwood Ct., Clifton Park
Hostesses: Elaine Lowenberg & Rochelle Borgen
Edible Arrangements
Prepare for Shavuot with Torah Study!
Thursday, May 13, 2010 at 7:30 pm
495 Moe Road
Mezuzah Art!
Thursday, April 15, 2010
7:30 PM at 495 Moe Road
****
Kosher by Design!
TUESDAY, MARCH 16 -Kosher by Design
Discuss the inner significance of the Kosher laws and cook up a storm!
Get loads of sample Recipes for Shabbat & Passover.
Hostesses Robin Denault & Erica Novick [email protected]
***
Decoupage Tzedakah Box
Monday, December 21 @ 7:30 PM
495 Moe Road
Decorate your own charity box. Gain insight in the dollars and sense of giving, warm up with a delicious hot soup bar.
Hostesses: Layne Zagorski & Sandy Maller
Bring along scraps of all kinds- lace, wallpaper etc.
***
Mind, Body, Soul & Weight Control
Nancie Segel at Shabbos House, 320 Fuller Rd Monday, October 19 at 8:00 pm
The Jewish Women's Connection will have Nancie Segel present at their upcoming event, on Monday, October 19th, 8pm at the new Shabbos House - Rohr Chabad Jewish Student Center located at 320 Fuller Road. Her presentation is titled, "Healthy Lifestyle Choices: Mind, Body, Soul & Weight Control."

This event will be co-sponsored by Jewish womens' groups in the Capital Region area, including UAlbany Hillel and Shabbos House, Ladies First, and the Jewish Womens Circle of Clifton Park.

This event is open to students and women in the community. Healthy refreshments will be served.

Nancie Segel is a presenter of wellness and weight control programs, with 30 years of experience in promoting wellness, with individual, group and worksite wellness programs throughout the area. She is a consultant to CDPHP, the Times-Union newspaper, SUNY, CSEA, and several NY state agencies. She has appeared on WHMT-TV, Channel 13 and several radio shows offering healthy eating tips. She is the owner of Food Management, Eat-A-Size-Smaller.
******
Spa for the Body & Soul
January 24, 2010, Hyatt Place, Malta-12:30 pm
Featuring: Jessica Brown-Levenbrown
My unique perspective developed in the contradictions of my life: a rich blend of sacred and profane, religious and secular, Orthodox and Reform, holy men and women, Harvard boys and girls, and Hollywood types that populate my world. My father was a religious Holocaust refugee from Vienna, my mother a secular, liberal, Jewish American intellectual. I spent much of my career as a television writer subversively sneaking life lessons and Jewish messages into stories about adolescent struggles. From personal experience, I have learned important lessons about love and loss, success and struggle. Mostly, I've come to accept that even though my best efforts can't always guarantee a decent outcome, much of life is about how we play the cards we're dealt.
Born and raised in New York City, I graduated Magna Cum Laude from Harvard University.I began my television career at Sesame Workshop, involved in the production of Sesame Street, 3-2-1 Contact, and The Lion, The Witch and The Wardrobe. I produced and wrote television programs for audiences of all ages and was nominated for an Emmy as head writer of the CBS daytime drama As The World Turns. My prime time television credits included Mancuso, FBI, Gabriel's Fire and the acclaimed Emmy-winning Northern Exposure. For seven years I wrote and produced the hugely popular series Beverly Hills, 90210, rising through the ranks from story editor to executive producer, winning countless awards including The Scott Newman Award for programming about drug and alcohol abuse, The Nancy Susan Reynolds Award, the People's Choice and the Golden Globe.
I returned to daytime television once again as head writer of As The World Turns, for which I was again nominated for an Emmy award. I then moved on to series development with Warner Brothers and the WB Network. Since 1999 I have developed, written and executive produced television programs for a range of companies including Nickelodeon, Disney Channel, Paramount Home Video, NBC, and ABC, receiving an Emmy nomination for the acclaimed series Scout's Safari, shot entirely on location in South Africa.
A member of the Board of Directors of the Writers Guild of America, West from 1995-1997, I currently serve on the WGA-W's prestigious President's Council of Television Writers. I collaborated with The Centers for Disease Control to write a book for television and screenwriters on public health issues, and worked with organizations including The Kaiser Family Foundation, Girls Incorporated and the National Campaign to Prevent Teen Pregnancy.
I married Isaac Levenbrown in October, 2000, and we are now trying to adjust to life with and without four grown children. We celebrated the birth of our first granddaughter on July 4, 2007. We are members of Chabad of Greater Los Feliz (in Los Angeles), and serve on the parents' advisory council to the Chabad House Serving NYU. I am a regular contributor to the Chabad women's website, www.thejewishwoman.org.

***
Knead Some Spirituality?
September 14, 7:30 PM at 495 Moe Road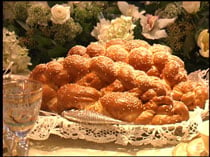 Continue the Traditon of Baking Challah and Learn about the Knead for Prayer. Enjoy High Holiday dishes.
Check out the New Yearly Calendar below!
A talk by
Sara Esther Crispe
DID YOU HEAR WHAT I MEANT TO SAY?
A Torah Approach to Successful Communication & Loving Relationships
Wednesday, July 22, 2009
7:30pm - 9:00pm
Jewish Federation Golub Center
184 Washington Ave. Ext.
Albany, NY
Light refreshments
Suggested donation $10
Join me early for my birthday celebration! 6:45 pm

Sara Esther Crispe is the creator and editor of the site www.TheJewishWoman.org . She is a well-known lecturer and leading speaker of womens issues. She has spoken across America, as well as Europe, Canada and South America. Known for her clear and direct approach, she is able to take current and provocative issues and make them meaningful and personal to audiences of various backgrounds. Sara Esther recently moved back to the States after living in Jerusalem for eight years where she and her husband were the directors of Torat Chesed: The Institute for Advanced Learning for Jewish Women. She has her BA from the University of California, San Diego in Literature/Writing and studied for her Masters at Brooklyn College in Literary Theory where she was a lecturer of Composition. Sara Esther is currently working on a book celebrating gender difference according to Kabbalah. She lives with her husband and four beautiful children in Merion, PA.
The Jewish Women's Circle Presents
Breaking the Brass Ceiling– Linking together
Featuring Guest Speaker
Danna Maller Rocque
First Jewish Woman to Graduate West Point
Sunday, June 14th, 2009
11:30 am – 1:30 pm
at Clifton Park Center
Buffet Luncheon & Raffle Drawing
Fun, Joy & Inspiration
Couvert $10 Sponsor $36
to RSVP contact Leah at 4950779
A special thanks to Elaine Lowenberg,
Renee Speigel, Varda LeMonds, Ronda Ross,
Sandy Maller, Carole Cherkosly, Alice Birnbaum,
& Judy Holmes for hosting this year's
Jewish Women's Circle events.
*******
Danna Maller Rocque was the first Jewish woman and part of the first group of 61 women to graduate from United States Military Academy at West Point. She continued to become the first woman helicopter pilot, and was instrumental in pioneering the West Point Jewish Chapel from its inception. She resides in Clifton Park with her family.
Jewish Women Circle
Create a Floral Arrangement to adorn your home with Frank Gallo & Son.
Enjoy a Blintz Bash with cheese, cherries and delight. Follow Ruth as she follows her destiny.
Hostess Judy Holmes. Suggested donation is $10. 495 Moe Road. Come and bring a friend.
*****************
Create your own Silk Matzah Covers to use at the Seder!
Learn about Miriam, the prophetess
April 2, 7:30 pm at 495 Moe Road
Hostess: Alice Birnbaum
Suggested donation: $10
"Gratitude with Attitude"
Will be the topic for the Jewish Women's Circle November meeting.
Glean insight from Leah who embodied true thanks. Design and create a piece of Jewelry to keep or give as a "thanks".
Hostess: Varda LeMonds, Monday, Nov. 24th
At 495 Moe Road, 7:30 pm,
Suggested donation $10
If you would like the women's yearly schedule, contact Leah Rubin, or view here
The Jewish Women's Circle brings together all that is unique about a Jewish woman and provides a great forum for meeting and enjoying the company of other women in our neighborhood. With opportunities to explore the Torah's perspective on Jewish femininity, get in touch with your creative side and develop connections within our community, I am sure you will find something in our women's circle that speaks directly to you.
A Woman's Prayer
Let Rachel's tearful prayer inspire us, reveal secrets of mind, body and spirit through prayer and yoga.
Hostess: Renee Spiegel; Instructor: Aviva Rossman
Tuesday October 28, 7:30 pm at 495 Moe Road
Pre-Chanukah Candle Making with Dr. Beth Gray, was held on December 7th at the home of Lori Hertzberg, 30 Firestone Lane at 8 pm.
Jewish Women's Circle "Revealing Masks"
CliftonParkJewish Women's Circle Presents "Revealing Masks"
The holiday of Purim- Beauty Queens, All!
Enjoy this unique opportunity, explore & express your inner/outer self through the experience of facial mask making.
Revealing Masks:
A Health & Beauty Workshop revealing the hidden message of Purim, with Spa artist Rozanna of Zen Again Spa.
'Be a queen for a day'. In honor of Purim discover the Jewish women's role through Queen Esther's story.
Wednesday, February 28th, 7:30pm
At the home of Elaine Lowenberg, 7 Wildwood Court, Clifton Park
RSVP Elaine Lowenberg e-mail [email protected]
Leah Rubin 495-0779 [email protected]